Orendorf Custom Homes - Involvements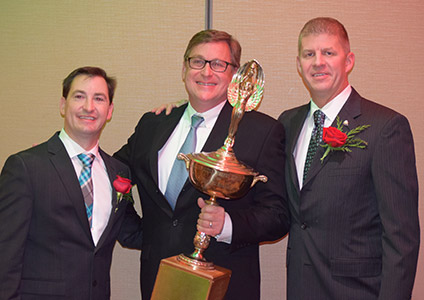 Orendorf Custom Homes is honored with The Builder of the Year Award for 2016
Joe Orendorf, Orendorf Custom Homes, was honored with the Metropolitan Builders Assosication's Builder of the Year award for 2016. This award is the highest honor the Association can bestow on one of its members. The recipient is selected based on criteria like integrity, business accomplishments, community service and overall contributions to the association.
The MBA names its new president - By J.A. Berger - JS Online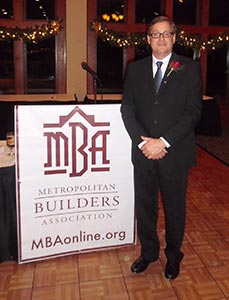 Joe Orendorf, owner of Orendorf Custom Homes and the new president of the Metropolitan Builders Association (MBA), looks forward to a productive and rewarding term. "We have a great group of core members and, as the industry recovers, our membership is solidifying and growing. We have some internal goals, but externally we are looking to have a terrific Home Building and Remodeling Show in January at the Wisconsin Center. We'll have another outstanding Parade of Homes in 2015 with home sites in Delafield, Menomonee Falls and hopefully an additional site."
Orendorf's interest in building started at a young age when his family moved around a lot for his father's work. "I was always fascinated seeing something created where nothing stood before," he said. "We always moved into newer areas with construction going on, and I was the nosey little kid hanging around the construction sites." After college, he held management positions in non-construction businesses in the Chicago-area, but his passion for building never waned. "I started renovating buildings on the side and realized I wanted to do it full-time. My wife and I sold our properties in Illinois and moved to the Milwaukee-area to follow our interests. It has been a wonderful adventure ever since." Orendorf discusses his experience in the home building industry.
What do you enjoy about building?
I love the creative process and helping people build their dreams. Since we do custom work, all of our homes are built around the customer. A big part of my job is working with the customer to see what he or she really wants. Many times, what people initially express is not what they really want. For builders to create great homes for people, it takes time and patience and asking the right questions. It feels great running into a customer from years ago who says, 'We really love our home. Thank you so much.'
How do you differentiate your business from others?
Since we're a small-volume builder, we are very involved with our customers and the details of their homes. We offer exceptional customer service and have a wonderful group of skilled craftsmen who partner with us. We are not the least expensive builder in the area and our customers don't want us to be, because they understand the true cost of things. However, for what we do, we are very competitive with our peers. We love hearing our customers say that their new guests are wowed by the new home. We value that good partnership with customers, builders and trade partners.
What advice would you give someone looking to build?
Do your homework. Know what you want and your budget. Look at different types of builders and then narrow it down to a few who build the type of home you are interested in. Next, make sure you are comfortable with your builder and the person who will be your main contact during the building process. Check referrals or past customers and make sure the builder is a member of the local builders association.
How has being a member of the MBA helped your business?
In addition to creating professional venues and a marketplace where our customers can find us, the MBA offers great resources in services and education. The MBA is great for networking with experts in the industry. I've learned something from almost every MBA member I've met.
What is your proudest professional achievement?
I am honored to be chosen by my peers to lead the MBA, but I take the greatest pride in creating well-paying jobs through my company and, more importantly, for our trade partners. Most of the jobs created in new construction are on a sub-contractor level with an average of three full-time positions for each new single-family home. You can provide 18 jobs by building only six homes a year. There is an economic impact on housing for our homeowners and their neighbors.
What is one of your greatest business challenges?
The last eight years were very challenging. The recession started in 2006, and every company in the area had to make a great deal of changes unexpectedly. It was tough for everyone involved in the building industry. It is nice that the industry has stabilized, but the uncertainty impacted everyone.
What charitable groups are you involved with?
In addition to spending a lot of time with the MBA, I also coached soccer for years. I'm active with our local ski racing team and club. I'm the past -chairman of the Milwaukee Habitat for Humanity 'Home Builder's Blitz.' We built 10 homes in five days. I like to help where there is a need.